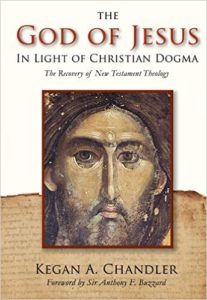 Kegan Chandler joins me once again to talk about the history of theology.  If you haven't yet heard his story, check out Interview 8: A Restorationist Finds the God of Jesus.  In this episode, I ask Chandler about his book, The God of Jesus in Light of Christian Dogma.  If you are at all interested in the history of ideas that influenced what Christians in the 2nd, 3rd, and 4th centuries believed about Jesus, this show is for you.  Chandler address the how Plato's Greek philosophy influenced Christian theologians as well as how the Gnostics not only anticipated much trinitarian language, but also how they influenced "orthodox" theology.  After exposing the pagan influnences on the development of the Trinity, Chandler goes on to offer a better way of reading the New Testament–through the lens of second temple Judaism.  Instead of reading later ideas into scripture, why not read it in light of the Hebrew bible and contemporary Jewish literature, like the Dead Sea scrolls.
---
Notes and Links:
Review Kegan Chandler's The God of Jesus in Light of Christian Dogma: The Recovery of New Testament Theology on Amazon.
Chandler's websites include: thegodofjesus.com and burieddeepblog.wordpress.com
R. P. C. Hanson wrote the definitive history of 4th century doctrinal development in his The Search for a Christian Doctrine of God.
Richard Rubenstein wrote a much shorter, easier history of Trinity history in his When Jesus Became God.
Intro music: "District Four" by Kevin MacLeod.  Licensed under Creative Commons: By Attribution 3.0 License.