Latest Episode
133 Is God a Misogynist? (Mary Willson)
Mary Willson, director of women's initiatives for the Gospel Coalition, wrestles with a couple of the Old Testament texts that critics use to show that God hates women, including Deuteronomy 21.10-14 and Numbers 5.11-31.  First she looks at how we perceive these ancient scriptures from the perspective of our own culture, then she shows how
[...]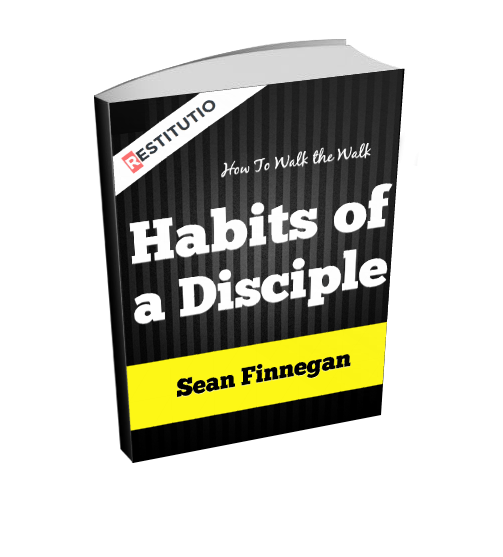 Get a Free EBook
Live your faith out authentically by incorporating these important spiritual disciplines. Learn the six habits of a disciple. Subscribe to the Restitutio email list and we'll send you this eBook for free!
About
Restitutio: Reflections of a Restorationist
A place for theology, church history, apologetics, inspiration, and other odds and ends
Hello. My name is Sean Finnegan and I'm on a quest. I'm trying to figure out authentic Christianity so that I can love God, follow Christ, and pursue truth wherever it leads. I've put this site together both to share my own lectures, sermons, and articles as well as to recommend other quality resources that have aided me in my own journey.

I'm convinced that Christianity has gotten off track from what it was in first few generations of the movement. I'm a restorationist, which means, I want to peel back layers of tradition that separate us from primitive Christianity.

Because I don't know everything, and sometimes err, please check what I say against the scriptures to see if it lines up (Acts 17.11). Feel free to leave feedback to help me on my quest to discover and live out the faith once for all delivered to the saints.

Please note that this is my personal site and does not necessarily reflect the views of Living Hope Community Church or the Atlanta Bible College.

To stay up to date on new content, please subscribe and follow me on facebook, twitter, and/or youtube.
my church

Living Hope Community Church
I serve as the associate pastor. If you are ever in the Albany NY area, stop by and check us out. All ages are welcome!

my education

M.T.S. Boston University
B.Th. Atlanta Bible College
B.S. Rensselaer (RPI)
A.S. Hudson Valley CC


my story

Hello, I'm Sean Finnegan. I grew up as a pastor's kid in upstate New York, USA. At 19 years old, I had shipwrecked my life, sinking in an ocean of self-destructiveness as the inevitable consequence of my narcissism. My first college had academically dismissed me because I lacked...more>>