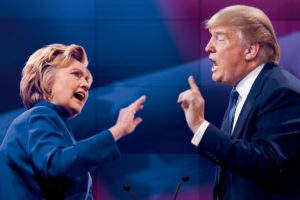 This election cycle American political discourse has sunk to a new low.  Rather than presenting facts and offering persuasive arguments based on policies, we've seen a whole slew of false claims and personal attacks.  The exchanges between Donald Trump and Hillary Clinton have been so caustic and shameful that when I discovered my ten year-old was watching one of the presidential debates with his mom, I immediately ushered him out of the room, muttering that such language and behavior was inappropriate for him to see.  (He had weaseled his way in to watch it on the excuse that he couldn't sleep.)  What does it say about the way politics works itself out on national TV that I felt horrified that my son was exposed to such bickering and animosity among those who are vying for the highest and noblest governmental office in the land?
I could deal with all of this, but what I can't handle is the fact that Christians don't seem to carry themselves any differently than their worldly counterparts.  Social media channels and email boxes overflow with vitriol and exaggeration as each side shouts ever louder, trying to drown out the sound of the other.  In this episode of off script, we offer some suggestions on how to think and behave when engaging in political discourse as Christians.  We begin by discussing an episode of Ira Glass' This American Life podcast episode "Seriously?" in which he addressed how misinformation and lies dominate political conversations.  Listen to the first 20 minutes to hear the part we discuss.  Also, we engaged with Justin Brierly's Unbelievable? podcast episode "Should Christians vote for Trump?" where Republican John Zmirak and Democrat Christina Rees discuss what Christians should do.  For Zmirak's "dead moose" comment, skip to 18 minutes.
---
Intro music: "Protofunk" by Kevin MacLeod.  Licensed under Creative Commons: By Attribution 3.0 License.