In this last episode of our 500 class, we'll cover a bunch of 20th century American groups including Christian Science, the Evangelicals, Plymouth Brethren, Pentecostals, Calvary Chapel, Vineyard Churches, Christian and Missionary Alliance, the Way International, the Worldwide Church of God, Scientology, the Moonies, and Megachurches (Rick Warren, Craig Groeschel, and Joel Osteen).  It's a whirlwind, but it should aid you in making some interesting and helpful connections between present day Christian groups and their past.
This is lecture 15 of a history of Christianity class called Five Hundred: From Martin Luther to Joel Osteen.
All the notes are available here as a pdf.
—— Notes ——
Christian Science (a.k.a. Church of Christ, Scientist) (85,000)
1866 – Mary Baker Eddy (1821-1910) experienced healing from back pain after studying the Gospels and devoted her life to studying healing
1875 – published findings in Science and Health
early 20th century had major growth but declined towards the end
Evangelicals/Born Again Christians (similar to fundamentalists, but different focus)
National Association of Evangelicals[1] defines an evangelical as someone who believes in

The need for everyone to have a "born again" experience
The engagement in missionary and social reform efforts
The obedience to the Bible as ultimate authority
Sacrifice of Christ on the cross as a central focus
Plymouth Brethren (1 million)
1827 meeting in Dublin, Ireland by John Nelson Darby (1800-1882)
Father of dispensationalism including pre-tribulational rapture

Dallas Theological Seminary's Professor Dr. Chafer's 1948 Systematic Theology
I. Scofield Bible's 1909 Study Bible
W. Bullinger's 1909 Companion Bible (finished in 1922)
Hal Lindsey's 1970 Late Great Planet Earth (a Dallas Theological Seminary graduate)
Tim LaHaye and Jerry Jenkins' 1995 Left Behind 12-part series

Met together in the name of the Lord without reference to a denomination
1831 – first meeting held in England at Plymouth; 1845 – assembly at Plymouth had 1,000 people
Distinctives

Avoidance of traditional symbols (no crosses, unembellished rooms, no stained glass)
No membership, what matters is who is written in the Lamb's book of life in heaven
No clergy, but they have elders and sometimes support a "full-time worker"
Weekly communion as a separate meeting from worship service (Quaker feel)
Pentecostals (279 million)
Holiness Movement

Asa Mahan (1799-1889), Charles Finney (1792-1875), Phoebe Palmer (1807-1874)
1881 – Church of God (Anderson, Indiana) founded (currently 1.2 million)
1895 – Church of the Nazarene founded (currently 2 million)

Charles Parham (1873-1922), a holiness preacher, formulated the doctrine of "initial evidence"

1901 – During a service, a woman asked for prayer and the laying on hands to be filled with the holy spirit and started speaking in tongues.

William Seymour (1870-1922)

One of Parham's students, an African American
1906 – Seymour went to LA and ignited the Azusa Street Revival, which lasted until 1915
People came from all over to see/experience tongues, including Europe

Fit in with Fundamentalists but rejected by them
Did not like emphasis on rationalism that Fundamentalists had
1913 – Debate over baptism in the name of Father, Son, and holy spirit or in the name of Jesus
1916 – Assemblies of God (65 million) adopted Trinitarian formula and evicted all who disagreed
Oneness Pentecostalism (6 million)

1914 – Pentecostal Assemblies of the World (1.5 million)
1945 – United Pentecostal Church International (4 million)
1960-1980 – Jesus Movement or perhaps a 4th Great Awakening[2]
Jesus Movement

Hippie counterculture movement (called "Jesus People" or "Jesus Freaks")
Restorationist theology

Wanted to return to lifestyle of early Christians; viewed churches as apostate; return to simple living; belief in miracles, healing, faith, prayer

Strong evangelism and millennialism
Music and music festivals were a huge part of the movement
1972 – week-long gathering in Dallas, TX attracted 80,000 young people

Other events and trends during this period include

Mainline Protestant churches lost members and influence while conservative denominations like Southern Baptists and Missouri Synod Lutherans grew
Emphasis on a personal relationship with Jesus
Rise of mega churches; growth of parachurch organizations
Rise of the religious right, political force of conservative Christians
Martin Luther King Jr. (1929-1968), Billy Graham (1918-?), and Pope John Paul II (1920-2005; became pope in 1978)
Growth of non-denominational churches

Nondenominational evangelicalism (80 million)
Calvary Chapel (25 million) in 1,000 congregations worldwide

1965 – Chuck Smith (1927-2013) became pastor of 25 person Foursquare Gospel Church
1969 – Calvary Chapel became hub of the Jesus Movement
Lonnie Frisbee (1949-1993) joined and coordinated outreach on the beaches
Music was very important (Maranatha Music)
Doctrines

Say they stand the middle ground between fundamentalism and Pentecostalism
Accept spiritual gifts; Arminian orientation
Pretribulationist (dispensational, Darby/Scofield)

Distinctives

Expository preaching (verse-by-verse rather than by topic)
Agree w/ Pentecostals about 2nd experience of spirit baptism after conversion
Believes in gifts of the spirit, but does not allow uninterpreted tongues
Strong leadership, "Moses Model" where senior pastors are not challenged

Association of Vineyard Churches (15 million)

1975 – Kenn Gulliksen started Vineyard in Hollywood
1982 – John Wimber took over
Low-key, low-pressure, "come as you are" environment, casual clothing
No membership records or procedures; decentralized organization of local churches
1994 – Toronto Blessing (disorderly manifestations of the holy spirit)

Christian Missionary Alliance (4 million)

1887 – Rev. Albert Simpson, a Presbyterian clergyman, started it as a missionary society
1919 – Simpson's death precipitated the moving away from Pentecostalism

Rejection of tongues as necessary indicator of being filled w/ holy spirit

1965 – churches adopted an established statement of faith and became a denomination
Typical evangelical beliefs
Prominent people influenced by C&MA

Way International (unknown membership)

a non-denomination; Joyful Noise traveled performing underneath giant tents
1941 – Victor Paul Wierwille (1916-1985) ordained by Evangelical and Reformed Church
1947 – The Chimes Hour Youth Caravan on radio; 1955 incorporated as "The Way"
Restorationist: claimed God spoke to him audibly that He would teach him the Word of God rightly divided as it had not been known since the first century
Classes: strong orientation towards manifesting holy spirit (influence by J.E. Stiles of Assemblies of God and E.W. Bullinger the ultra-dispensationalist)
1970-1995 – The Rock of Ages Festival (5,000 to 20,000 attended)
Distinctive doctrines

all Christians can and should speak in tongues; biblical unitarian (1975 Jesus Christ Is Not God); sleep of the dead until 2nd coming; believe spirit baptism replaced water; once saved – always saved; prosperity of all "believers"
Mark and avoid: people in the Way shun someone marked by leadership
Should be completely debt free (including car loans, mortgages, school loans)
1990s-2000s Culture Wars
1991 – James Davison Hunter published Culture Wars: The Struggle to Define America
Hot-button issues polarized along ideology, not religion, ethnicity, class, or political affiliation

Issues included abortion, gun politics, separation of church and state, privacy, recreational drug use, homosexuality, and censorship

Pat Buchanan, ran (and lost) the Republican presidential nomination (to George H.W. Bush) said, "The agenda that Clinton and Clinton would impose on America—abortion on demand, a litmus test for the Supreme Court, homosexual rights, discrimination against religious schools, women in combat—that's change, all right. But it is not the kind of change America wants.  It is not the kind of change America needs.  And it is not the kind of change we can tolerate in a nation that we still call God's country."
Especially w/ election of George W. Bush, evangelicals came to be seen as a critical political force
Other 20th Century Groups
These groups had varying levels of influence in America during the 20th century
Worldwide Church of God/ Grace Communion International (42,000)

1931 – Armstrong ordained by Church of God (Seventh-Day), an Adventist group
1934 – Herbert W. Armstrong founded radio ministry, Radio Church of God
1956 – Armstrong published 1975 in Prophecy!, a booklet predicting the future
1968 – Church official named Worldwide Church of God
Distinctive doctrines (under Armstrong)

Adventist: sleep of the dead, return of Christ to establish Kingdom on earth
Restorationism; only true Church; Sabbatarian, Law of Moses
Authoritarian, pastors announce someone disfellowshiped during a service
People had to pay 3 tithes
British Israelism: white Anglo-Saxon peoples of USA, UK, and Western Europe were the descendants of the lost ten tribes of Israel

1986 – Denomination's doctrines changed to be compatible w/ evangelicalism

Scientology (between 100,000 and 8 million)

1953 – Science Fiction author L.Ron Hubbard (1911-1986) founded Church of Scientology
1955 – Hubbard launched "Project Celebrity," making a list of 63 famous people
Beliefs

People are immortal beings who have forgotten their true nature
Need spiritual rehabilitation (called auditing) to re-experience painful events of past to free themselves of ongoing effects
Charge a fee for study materials and auditing sessions

Moonies/Unification Church

1954 – Sun Myung Moon (1920-2012) founded group in South Korea
1966 – Divine Principle published, held at status of Scripture
Beliefs

Communication w/ spirits of the deceased
Spirits can return to earth and cooperate w/ living people to expiate for sins
Moon is the second coming of Christ; he and his wife Hak Ja Han are the true family—the parents of humankind

Megachurches (1,300 in the US; 50 of them exceed 10,000 in weekly attendance)

Typically a Protestant church having 2,000 or more people in average weekend
There are 3,000 Catholic churches that have 2,000 or more
Saddleback Church in Lake Forest, California (12 sites)

Rick Warren (Southern Baptist); 38,789 members with 22,055 weekly

tv in Edmond, OK (15 sites)

Craig Groeschel (Evangelical Covenant Church); 41,000 weekly attendance

Lakewood Church in Houston, Texas (1 site)

Joel Osteen (Non-denominational); 43,500 weekly attendance

Criticisms: steal people from smaller churches; too much focus on entertainment; corporate business models; millions of dollars of revenue but are tax exempt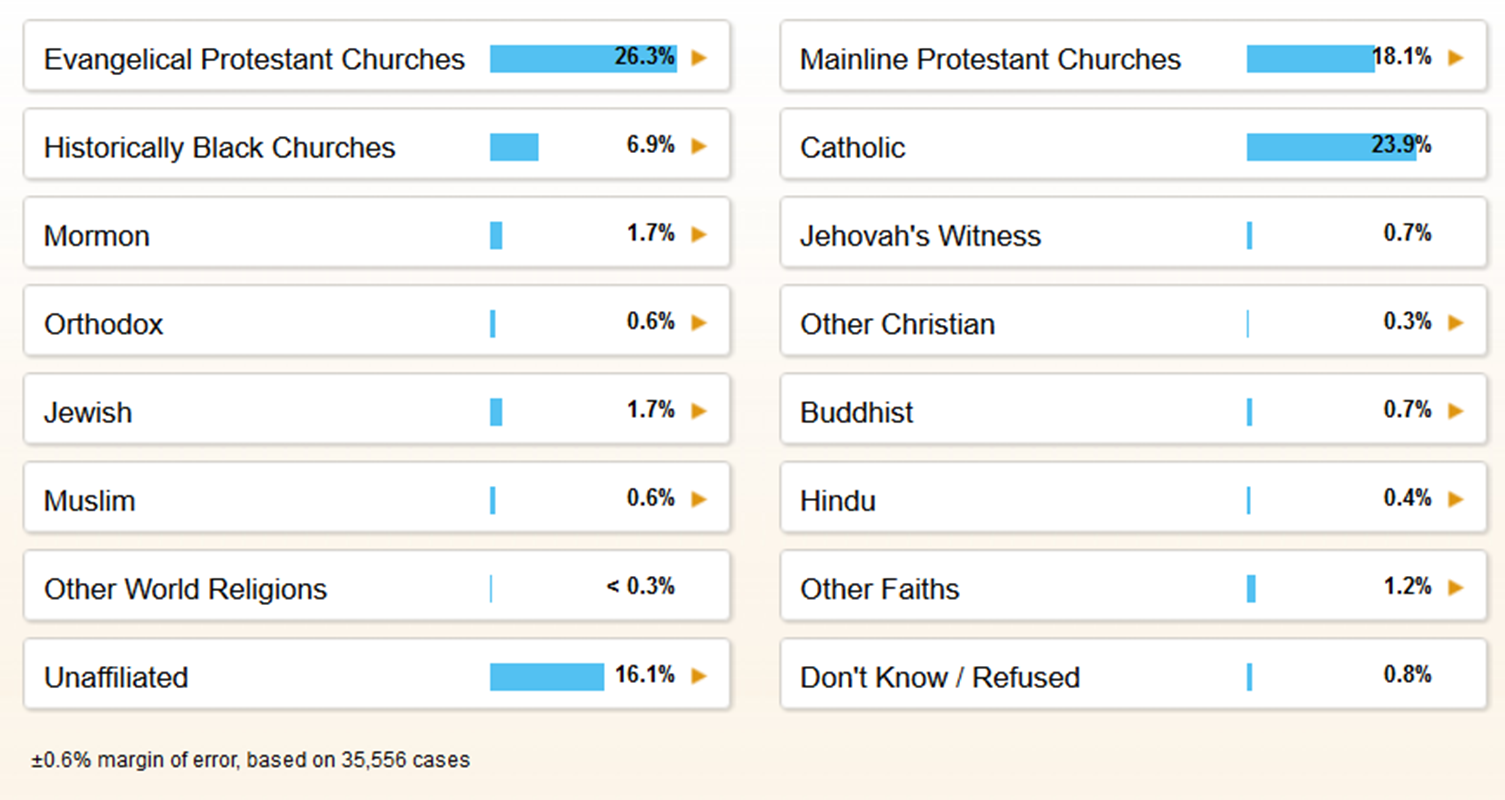 [1] https://www.nae.net/church-and-faith-partners/what-is-an-evangelical
[2] The first was 1731-1755 with Johnathon Edwards and George Whitefield; the second was 1790-1840 with camp meetings and revival preachers like Barton Stone and Charles Finney; the third was allegedly 1850-1900 with missionary societies forming and the social gospel movement spreading
—— Links ——