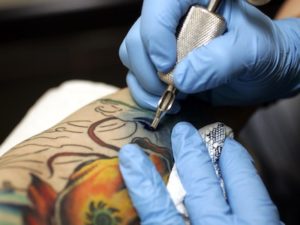 Last week we looked at stewarding your body. In this episode we focus on a phenomenon that has been growing over the last couple of decades–tattoos and piercings. What was once seen among sailors, bikers, and soldiers is now rampant among celebrities, athletes, and countless others. What's a Christian to do? Should we go with the flow? Does the bible condemn tattoos and piercings outright? If tattoos are ok, how should we figure out what is appropriate and godly versus what is inappropriate and sinful? In this Off Script episode we discuss these questions in an effort to set aside cultural bias and think biblically about tattoos and piercings.  Here's a quick list of questions to ask before getting a tattoo or piercing:
10 Questions to Ask before You Get a Tattoo or Piercing
Will it portray something God is against?
Is your motivation vanity (drawing attention to yourself)?
Will this limit your career options?
Are you ok with strangers coming up and asking you about it?
Are you sure you want this on your body permanently?
Would this cause issues or offense in your cultural setting?
Does your spouse agree with you on getting it?
Will it cause irreversible damage?
Will it remind you of something God has done or give God glory?
Will it open doors for evangelism?
Here are some pictures we reference in the episode:
---
Links: