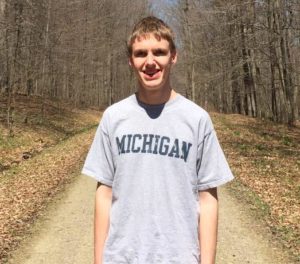 Nicholas Hlifka grew up as an atheist until a Christian teacher shared his faith with him in high school.  While attending the State University of New York at Fredonia, he took a class with Dale Tuggy.  When he found out that Tuggy was a biblical unitarian, he was immediately wary of such a heretical belief.  Over time, he challenged Tuggy, his best trinitarian proof-texts to him.  Tuggy explained the various texts and eventually Hlifka felt compelled to follow the evidence where it was leading.  Next, in an online coversation with Kegan Chandler, he learned about how God plans to establish his kingdom on earth (rather than going to heaven at death).  Once again Hlifka didn't balk at the challenge, but embraced the biblical teaching.
Notes and Links:
Other faith stories from Theological Conferences
More information about Restoration Fellowship's Theological Conference available here.
Intro music: "District Four" by Kevin MacLeod. Licensed under Creative Commons: By Attribution 3.0 License.