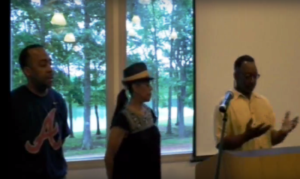 Steve and Phyllis Carouthers have attended many churches throughout their Christian journey.  A couple of years ago Phyllis was researching the gifts of the spirit and came across an article on the Truth or Tradition website and saw that they were biblical unitarians.  Initially she found this quite disturbing as she associated all unitarians with the very liberal Unitarian Universalist denomination.  However, after learning that biblical unitarians actually hold to the inspiration and authority of scripture, she began considering the idea that the Father is the only true God.  She searched around online and began watching the free classes from Living Hope International Ministries.  After much study she came to agree that Jesus is not God the Son, but the Son of God.  She shared this with her step son, Thomas Brewer who had been studying with the Jehovah's Witnesses for a year.  (He could never quite bring himself to join them because of their opposition to blood transfusions.)  He came to see the light and attended the Theological Conference in 2016.  This year the whole family came.
Notes and Links:
Other faith stories from Theological Conferences
More information about Restoration Fellowship's Theological Conference available here.
Intro music: "District Four" by Kevin MacLeod. Licensed under Creative Commons: By Attribution 3.0 License.