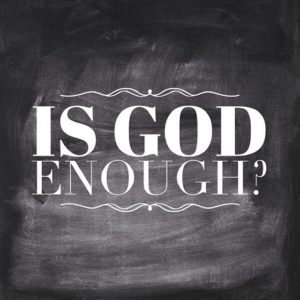 Covetousness, self-reliance, and envy can rob us of gratitude and contentedness.  So much of our world programs us to feel restless, entitled, and discontent regarding our possessions, how we look, our work, and our relationships.  Have you ever asked yourself, "How much is enough?"  Taking his cue from the Apostle Paul, John Cortright shares the secret of being content: recognizing that what God has done through Christ is already enough.  In the end, Cortright concludes based on Psalm 73, that God is his chief good, his portion, his refuge, therefore, come what may, God is enough!
Psalm 73.25-28
Whom have I in heaven but you?
And there is nothing on earth that I desire besides you.

My flesh and my heart may fail,
But God is the strength of my heart and my portion forever.

For behold, those who are far from you shall perish;
You put an end to everyone who is unfaithful to you.

But for me it is good to be near God;
I have made the Lord GOD my refuge,
That I may tell of all your works.
---
Notes: