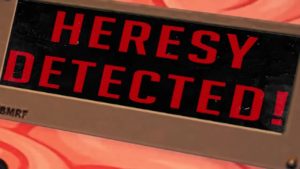 The history of Christianity can sometimes be really depressing, especially when we look at the "heresy hunters." From Justin Martyr and Irenaues in the second century to Athanasius and Epiphanius of the fourth century, as Christians we progressively came to define ourselves on the basis of what we don't believe.  As a result, so much energy focused on precisely defining and policing the boundaries of orthodox doctrine.  This tendency continued to develop throughout the middle ages, culminating with the Catholic Inquisition in Spain where the church interrogated, tortured, and executed "heretics" (typically Jews who had been forcibly converted to Catholicism).
In the sixteenth century, even Protestants executed heretics like the founders of the Anabaptists and Michael Servetus.  Thankfully, the world has changed so much from the days when one could be executed for thought crimes.  However, especially with the advent of the internet, the heresy-hunting impulse is alive and well within Christianity.  Across countless blogs, chatrooms, and youtube channels, self-appointed orthodox defenders continue to bully and blackball other honest-hearted Christians for their unwillingness to accept their list of essential doctrines.
In this eye-opening talk, Dr. Dale Tuggy discusses four approaches to heresy, including (1) Catholic, (2) Protestant, (3) "free" Protestant, and (4) apostolic.  He argues that there is such a thing as heresy, and we should take it seriously, but it has a lot more to do with divisiveness than doctrinal errors.  Ironically, the heresy-hunters are the ones guilty of causing αἵρεσεις (factions) in the body of Christ.
---
Notes: