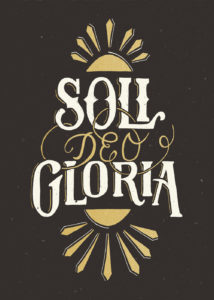 Did you make any new year's resolutions this year? We are now three weeks into 2017 and I bet many of us have already reverted to our old ways. However, what I want to propose here is not a new habit or a trick to stop an old one. Rather, I want to encourage you to adopt a particular perspective. Whether you gain weight or lose it, whether you go to bed early or stay up late, whether you get consistent with flossing or not, everything you do can and should be done to the glory of God. What's more, living with this perspective doesn't mean you have to give up pleasure. In fact, just the opposite is true. When we live for God's glory, we can enjoy our lives more than ever before.
---
Notes and Links:
"Being sensible that I am unable to do anything without God's help, I do humbly entreat him by his grace to enable me to keep these Resolutions, so far as they are agreeable to his will, for Christ's sake.

Remember to read over these Resolutions once a week.

Resolved, that I will do whatsoever I think to be most to God's glory, and my own good, profit and pleasure, in the whole of my duration, without any consideration of the time, whether now, or never so many myriads of ages hence. Resolved to do whatever I think to be my duty, and most for the good and advantage of mankind in general. Resolved to do this, whatever difficulties I meet with, how many and how great soever…4. Resolved, never to do any manner of thing, whether in soul or body, less or more, but what tends to the glory of God; nor be, nor suffer it, if I can avoid it." — Jonathan Edwards (c. 1720)
1 Corinthians 10.31 So, whether you eat or drink, or whatever you do, do all to the glory of God.
Westminster Shorter Catechism (1647)
Q: What is the chief end of man?
A: Man's chief end is to glorify God,1 and to enjoy him forever.
1 Corinthians 10.31 Do all to the glory of God
Judges 6-7 God's whittling down of Gideon's army provides us a prime example of how important it is to God that he receives proper glory for what he does. He could have worked with thousands, but then they would have thought they had won the victory because of their own military prowess.
1 Peter 4.11 In everything we should give God glory through Jesus Christ. This is not limited to when we are here on Sundays or at other fellowships, but our whole lives.
Matthew 6.1-18 Jesus teaches us about doing righteous deeds for God not people
pray to God in private
fast secretly so God sees not people
give to the poor secretly
Romans 16.27 To God be glory forevermore
Ephesians 3.21 To God be glory in the church and in Christ Jesus
Philippians 1.11 Righteousness comes through Jesus to the glory and praise of God
1 Thessalonians 2.4 We speak not to please people but God who tests our hearts
Jesus made his whole life about glorifying God
Jn 5.41 "I do not receive glory from people"
Jn 7.18 "The one who speaks on his own authority seeks his own glory; but the one who seeks the glory of him who sent me is true, and in him there is no falsehood"
Jn 8.50, 54 "Yet I do not seek my own glory…if I glorify myself, my glory is nothing. It is my Father who glorifies me, of whom you say, 'He is our God'"
Jn 12.43 "for they loved the glory that comes from man more than the glory that comes from God"
John 5.30 "I can do nothing on my own. As I hear, I judge, and my judgment is just, because I seek not my own will but the will of him who sent me.
How to glorify God in 2017: Love God and Love People!
---